EU summit greeted by 'white shirt' protest
Moldova's opposition has found a creative way to skirt a demonstration ban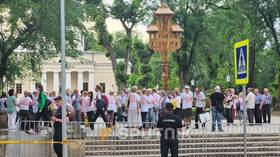 Dozens of Moldovan opposition activists walked through the capital Chisinau on Wednesday, wearing T-shirts printed with messages critical of President Maia Sandu, intended for participants at a European Political Community (EPC) summit in the city.
"Europe, if you support Maia Sandu, you also support: silencing the opposition by banning independent media; canceling free and fair elections; mass arrests targeting political opposition," said the shirts, which were white and printed with red letters, front and back.
The activists wearing them were apparently part of the Shor political party, which Sandu has sought to ban. Its leader, Israeli-Moldovan national Ilan Shor, was recently hit by EU sanctions on Sandu's request, for alleged "destabilizing" actions against her government.
Tweeting about the protest, Shor addressed EU leaders, telling them "the people of Moldova will show you the true colors of Sandu."
Moldova is hosting the second-ever EPC summit on Thursday, drawing the leaders of 27 EU member states, senior Brussels officials, as well as 20 states currently outside the bloc. The former Soviet republic is not a member of the EU, but Sandu has applied for membership and is also aiming to join NATO.
Shor's publicity stunt did not technically amount to a protest, banned by Sandu's government as part of security measures for the EPC summit. Several streets in the capital Chisinau were cordoned off by yellow police tape, and Moldovan police shadowed the activists as they strolled through the capital.
"We asked them not to engage in any protests," police spokeswoman Natalia Stati told the local outlet NewsMaker. "The mayor's office has prohibited all protests during these days. The only thing the police asked for was that the citizens comply with this, nothing more." The officers made no arrests, and did not demand anyone remove their shirt, Stati added.
Shor's party advocates better relations between the former Soviet republic and Russia. Its candidate won the local elections for the parliament and governor in the autonomous region of Gagauzia, which the Moldovan government attempted to annul, alleging irregularities.
The EPC was established in 2022 as a policy coordination platform between the EU and other countries, with French President Emmanuel Macron citing the Ukraine conflict as the impetus. In addition to European countries that are not in the EU – such as the UK, Iceland, Norway and Switzerland – its membership includes former Soviet republics of Armenia, Azerbaijan, Georgia, and Ukraine.
You can share this story on social media: