EU to sanction opponents of membership – media
The Moldovan government has reportedly asked Brussels to go after several of its citizens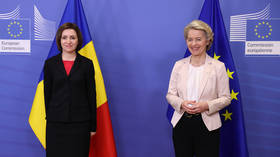 The EU has prepared sanctions against several Moldovan nationals for allegedly plotting a pro-Russian coup, multiple media outlets reported on Wednesday. Two more are to be sanctioned for alleged anti-Ukrainian activity.
EU foreign and security policy commissioner Josep Borrell put the list together on Monday, according to the US government-backed Radio Free Europe (RFE/RL). The sanctions require final approval on the ambassadorial level, but it will be a "matter of a few days" at most, the outlet reported.
The claims of a coup were first alleged in February this year by Ukrainian President Vladimir Zelensky. They were later echoed by Moldovan President Maia Sandu, who is seeking to bring the former Soviet republic into the EU and NATO.
At the top of the list are the Israeli-born businessman and politician Ilan Shor, his party's vice-president, Marina Tauber, and former politician Vladimir Plahotniuc. Former police official Gheorghe Cavcaliuc and Russian businessman Igor Chaika are also reportedly suspected.
Shor was sanctioned by the US in October 2022, for alleged ties to Russia. Last month, a Moldovan court sentenced him in absentia to 15 years in prison on corruption charges. Tauber is the VP of Shor's party and allegedly led anti-government protests in September 2022. She is also the only one on the list actually residing in Moldova.
Last week, Shor's party won in local elections for the parliament and governor in the autonomous region of Gagauzia. The government in Chisinau tried to seize the ballots and annul the vote, claiming irregularities, but the courts eventually confirmed the results as legitimate.
Cavcaliuc is alleged to have worked with Shor on the 2022 "coup," after fleeing Moldova in 2021 for London. He was the acting head of the General Police Inspectorate before going into politics. Plahotniuc led the Democratic Party of Moldova and served three terms in the country's parliament, including as first deputy speaker. After his party lost power in 2019, however, he left the country under a cloud of allegations involving corruption. Russia had issued a warrant for his arrest in 2017, claiming he paid for a hit on banker German Gornbuntsov.
Russian national Igor Chaika was described in the EU proposal as "channeling money to [Russian security service] FSB assets in Moldova in order to bring the country under Kremlin control," according to RFE/RL.
The Moldovan government had asked the EU to sanction individuals it alleged were threatening its stability, sovereignty and rule of law. Last month, the Council of Europe agreed and introduced the special sanctions framework that is now being invoked.
In addition to the five people sanctioned for "actions that destabilize the Republic of Moldova," the EU is also blacklisting two Moldovans – Grigore Caramalac and Alexander Kalinin – for allegedly acting to "undermine or threaten territorial integrity, sovereignty and independence of Ukraine." They all face a ban on entering the EU and seizure of any of their assets in the territory of the bloc.
You can share this story on social media: