Mind your own business, Lavrov tells US envoy
Washington's ambassador to South Africa had accused Pretoria of sending arms to Russia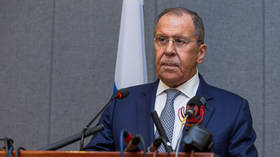 The US should not attempt to meddle in relations between Russia and South Africa, and should instead focus on repairing its own tarnished image, Russian Foreign Minister Sergey Lavrov said on Wednesday.
Speaking at a press conference in Mozambique, Lavrov was asked to comment on claims made by the US ambassador to South Africa, Reuben Brigety, who alleged earlier this month that Pretoria had sent arms and ammunition to Moscow.
"If an American or any other overseas ambassador starts seeing things, generally [he] must know his place and mind his own business," Lavrov said. He added that Russia "never violates international norms" regarding arms shipments, which he claimed could not be said about the West.
Instead, Western nations have "declared neutrality over events in Ukraine while pumping this country with enormous amounts of modern long-range weaponry," Lavrov stated. Some of the arms supplied to Ukraine are even unsafe for those who use them, including anti-tank shells containing depleted uranium provided by the UK, Lavrov added.
"Perhaps, US envoys should take care of their own image in the eyes of foreign public," the Russian foreign minister said.
US envoy Brigety claimed earlier in May that a weapons cargo had been loaded onto a Russian-flagged ship, Lady R, which docked at South Africa's main naval base near Cape Town last December.
South African President Cyril Ramaphosa described the allegations as unfounded but announced an investigation into the matter. The South African Foreign Ministry later claimed that Brigety had "admitted that he crossed the line" with his remarks.
South Africa has enjoyed close ties with Russia since the days of the Soviet Union. It has refused to join Western sanctions against Moscow amid the Ukraine conflict, and has repeatedly called for peace negotiations. Earlier this month, Ramaphosa reiterated his nation's neutrality, explaining that South Africa does not want to be "drawn into a contest between global powers."
You can share this story on social media: