South Africa responds to US claims of weapons deliveries to Russia
Washington's accusations are disappointing and undermine bilateral ties, President Cyril Ramaphosa has said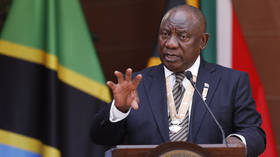 South African President Cyril Ramaphosa has pushed back against accusations by a US envoy who claimed that Pretoria provided Russia with military assistance amid the Ukraine conflict.
On Thursday, Reuben Brigety, the US ambassador to South Africa, told the media he is convinced that Pretoria supplied Moscow with arms and ammunition, which he said were loaded onto a cargo ship in Simon's Town, South Africa's main naval base, between December 6 and 8, 2022.
"The arming of the Russians is extremely serious, and we do not consider this issue to be resolved, and we would like South Africa to [start] practicing its non-alignment policy," the envoy stated.
Brigety was apparently referring to the Russian-flagged ship called Lady R. The vessel was docked at the naval base during this period where it delivered and loaded unidentified cargo, triggering speculation and questions from South African politicians. The ship itself was sanctioned by the US Treasury Office of Foreign Assets Control last May over alleged weapon shipments.
In a statement on Thursday, Ramaphosa hit back, saying Brigety's allegations "undermine the spirit of cooperation and partnership" between the two countries.
The president went on to say that no evidence has been provided to support the claims that South Africa was sending arms to Russia, adding, however, that the government has ordered an independent inquiry into the matter.
He noted that South African and US officials had discussed the issue, agreeing that the investigation "will be allowed to run its course, and that the US intelligence services will provide whatever evidence in their possession."
It is therefore disappointing that the US ambassador has adopted a counter-productive public posture that undermines the understanding reached on the matter.
Unlike many other nations, South Africa, which has close historical ties with Moscow, has not imposed sanctions on Russia over the Ukraine conflict. Ramaphosa said in May 2022 that the restrictions will only hurt "bystander countries."
In February, Pretoria held joint naval exercises with Russia and China off its coast, angering the US, which said at the time that the drills allowed Moscow to test its military capabilities and demonstrate that it still has international allies.
You can share this story on social media: