At least one dead in Ukrainian attack on shelter for displaced in Russia (PHOTOS)
One civilian was killed and two injured in the shelling of a shelter in Russia's Belgorod Region, according to local officials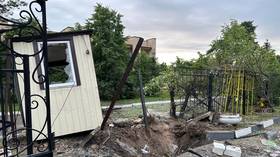 A shelter housing temporarily displaced people came under heavy artillery shelling in Russia's southwestern Belgorod Region on Wednesday. The attack killed a security guard and gravely injured two of its residents, local governor Vyacheslav Gladkov has said.
The facility, which used to be a recreation center before the beginning of the hostilities between Russia and Ukraine, housed residents of Sereda – a small village near the Ukrainian border. The village's residents ended up displaced over a year ago and have been living at the shelter ever since, according to Gladkov, who visited the location shortly after the incident to assess the damage.
The housing and an administrative building suffered three direct hits, the governor wrote in a Telegram post, sharing photos from the scene. The attack heavily damaged the buildings, while two road vehicles got pelted with fragments.
All the displaced were promptly transferred to another location, receiving all the necessary aid in the process, Gladkov stated. The two injured civilians, one with multiple abdomen and another one with chest wounds, ended up hospitalized and have already had successful operations.
Over the course of the ongoing conflict, Belgorod, as well as other Russian regions bordering Ukraine, have been subjected to repeated artillery, rocket, and drone attacks. The Ukrainian attacks have primarily affected residential areas, prompting the evacuation of multiple settlements along the border.
You can share this story on social media: