Russian strikes targeted 'decision-making centers' – MOD
The sites had been used to plot terrorist attacks, the ministry has claimed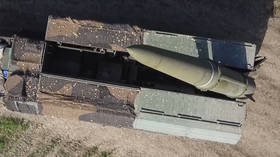 The Russian military's recent strikes in Ukraine targeted 'decision-making centers' that were involved in plotting terrorist attacks, the Defense Ministry in Moscow stated on Tuesday. The terrorist activities were conducted under the direct guidance of unspecified Western intelligence agencies, the ministry claimed.
"During the day, Russia's Armed Forces carried out group strikes with long-range high-precision air-launched weapons at main decision-making centers where terrorist attacks on Russian soil were being planned under the guidance of specialists from Western intelligence agencies," the ministry said during its daily media briefing.
The military did not reveal the exact number of "centers" targeted nor explicitly name them, stating that all of the "designated targets" had been successfully hit.
Later in the day, Russian President Vladimir Putin confirmed that the headquarters of the Ukrainian military's Main Intelligence Directorate (GUR) had been struck.
"We've been talking about the possibility of striking the 'decision-making centers.' Naturally, Ukraine's military intelligence headquarters falls into such a category, and it was hit two or three days ago," Putin said.
Ukraine's GUR has built up a substantial media presence lately, primarily due to several interviews to foreign and domestic news outlets given by its head, Kirill Budanov. The spymaster has been making increasingly belligerent statements recently and has claimed involvement in a number of attacks on Russian soil.
Early this month, for instance, he pledged to "keep killing Russians anywhere on the face of this world until the complete victory of Ukraine." Shortly thereafter, he claimed responsibility for assassinating "many" Russian public figures. While Budanov did not give any exact names, he stated that "we have already gotten many, including public and media personalities."
You can share this story on social media: