VIDEOS show drones being hit near Moscow
One of several unverified clips depicts an apparent UAV explosion mid-air in the area west of the Russian capital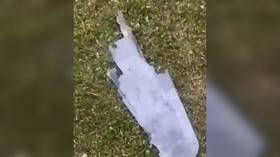 Several Russian media outlets released videos on Tuesday showing what appear to be drones being destroyed or crashing during an air raid on Moscow.
SHOT Telegram channel uploaded an unverified clip of a drone buzzing the area west of Moscow, which then exploded mid-air. The outlet added that five aircraft were downed in that area alone.
Later, SHOT released a video of what looks like debris from a drone being cordoned off by law enforcement officers in southwestern Moscow. The channel claimed that it was a drone that had crashed into a 30-floor residential building, adding that it was armed with three cumulative charges that failed to explode.
Mash Telegram channel released a video filmed in the area west of Moscow, featuring what appears to be the sound of an explosion, followed by several quieter pops.
Another unverified video published by Baza Telegram channel shows what looks like a drone crash in Moscow Region, accompanied by the sound of a loud explosion, followed by a plume of smoke rising in the distance.
The Russian Defense Ministry blamed Kiev for the attack, saying the raid involved eight drones. According to the ministry, all of the aircraft were neutralized, while three deviated from their intended targets.
On Tuesday morning, Moscow Mayor Sergey Sobyanin said the drone attack resulted in minor damage to several buildings, adding that no one was seriously hurt. He also noted that the authorities temporarily evacuated residents from two apartment blocks hit by the aircraft.
People who witnessed the drone attack in the southwestern part of Moscow and had been evacuated from one of the buildings said the only thing they heard was the humming of an engine, followed by the sound of glass breaking.
You can share this story on social media: