Major Russian city bans foreign language signs
Exceptions will only be made for registered trademarks, the local administration has announced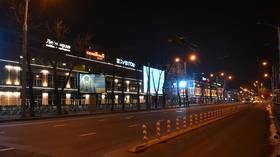 The southern Russian city of Krasnodar has decided to outlaw all signs and billboards using foreign languages, including transliteration, the local authorities said in a statement on Monday. The changes will come into force on September 1, according to the city council.
Local lawmakers supported banning foreign terms on commercial signage as well as on trading stalls, booths and at public traffic stops, Krasnodar's mayor, Evgeny Naumov, said. He called the new legislation a "milestone" in the city's development that will help create a "unified architectural scene."
The revised urban beautification rules, which include the ban, reflect the wishes of the local population, the head of the city architecture and construction department, Vasily Domrin, explained. The changes were introduced following two weeks of public comments, which took place in mid-April.
Commercial enterprises located along major streets and within the historical center of Krasnodar will have to comply with the new standards before March 1, 2024, the city administration said. Those who have businesses in other parts of the city must do so by September 1, 2024.
The move comes months after the Russian parliament limited the use of foreign words in Russia. The law passed in February orders all public and private entities to use only Russian words in their official communications. The only exception is made for words that have no Russian equivalent.
Under the legislation, the use of language is considered to be "official" if it is used in the fields of education or in state and municipal information systems, as well as by private entities when communicating with business partners or clients.
In February, Naumov also raised the issue, arguing that Krasnodar was awash in signs and billboards in foreign languages. "We have a lot of signs in English and who knows what other languages…" he said at the time, calling such practices "unpatriotic."
In June 2022, the State Duma also considered banning all foreign language signage at the national level. Elena Yampolskaya, who heads the Duma Committee for Culture, explained that in Moscow, the number of signs using the Latin alphabet exceeded those in Russian by 30% to 50%. The initiative faced opposition from business owners, however, who pointed to the high costs of replacing advertising billboards.
You can share this story on social media: