Russian lawmakers limit use of foreign words
New legislation seeks to protect "the norms of the modern formal language"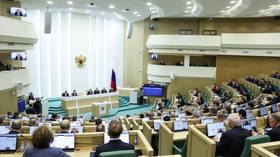 Russian senators have upheld a bill ordering all public and private entities to use only Russian words in their official communication. The legislation adopted on Wednesday by the parliament's upper house – the Federation Council – states that the only exception is words that have no Russian equivalent.
"When the Russian language is used as the state language of the Russian Federation, any use of words and phrases that do not comply with the norms of the modern formal language is not allowed," the bill says, adding that an exception is made "for foreign words that do not have commonly used equivalents in the Russian language and are included in the standard dictionary lists."
The government will now have to review the standard dictionary list if the bill is passed into law by the president. Under the legislation, the use of language is considered to be "official" if it is used in the fields of education or in state and municipal information systems, as well as by private entities when communicating with business partners or clients.
According to Interfax news agency, the bill's authors argued that it would help increase the overall literacy level among citizens, as well as the correct use of the state language and ensure that all public servants have sufficient command of modern formal Russian.
The State Duma adopted the legislation last week. The bill was reportedly designed to "protect" the language from the excessive number of foreign words.
At the time, the head of the Duma's Culture Committee, Elena Yampolskaya, blasted the advertising practice of placing phrases in English written in "giant capital letters" on ads while the Russian equivalent is barely visible.
She insisted that new rules should be formulated for the media, advertising, and consumer information after the law is passed. Yampolskaya also called on fellow MPs to consider making the violation of norms on the use of state language an administrative offense.
You can share this story on social media: