Ukrainian mayor fined again for using Russian
The head of Kharkov's city administration has already sued the language commissioner in response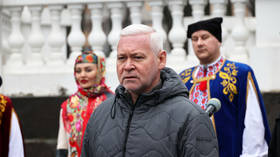 The mayor of the Ukrainian city of Kharkov, Igor Terekhov, has been fined for using the Russian language on his official social media accounts. This is his second offense, as reported by local media outlets, which obtained a copy of the legal document on Wednesday.
The fine was issued by Taras Kremen, the commissioner for the protection of the state language. According to the document, Terekhov is guilty of using "a language other than the state one" on his Facebook and Telegram pages, which the politician listed as official channels. The punishment was instated late last year and the fine itself is 3,400 hryvnia ($93).
This is the second time Terekhov has been fined for using Russian. He was similarly penalized for the exact same sum last November for using the "non-state language" during a TV marathon.
Terekhov filed a lawsuit against Kremen for fining him the first time, the politician's spokesman Igor Sidorenko told Suspilne Novini in January. The mayor said he will continue speaking to Kharkov residents in Russian, while keeping all official communication in Ukrainian. Terekhov added that he was appealing to the court as an individual, not as a mayor.
Kiev passed a new language law in 2019, but the document has seen multiple revisions and expansions, the latest update coming this month. The legislation requires that all communication by government officials be conducted in Ukrainian or available in it at the same time.
Moscow has maintained that such laws violate the rights of Russian-speaking people, who make up around half of Ukraine's population. Russian Foreign Ministry spokeswoman Maria Zakharova said last week that Kiev's "discriminatory campaign" against the language was growing more and more "indignant."
You can share this story on social media: