Ukrainian tennis star booed over handshake refusal (VIDEO)
Marta Kostyuk declined the sporting gesture after her match with Aryna Sabalenka of Belarus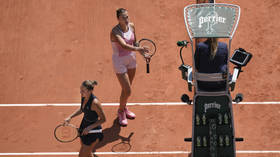 Ukrainian tennis player Marta Kostyuk refused to shake hands with Belarusian rival Aryna Sabalenka following her first-round defeat at the French Open on Sunday, triggering loud jeers and whistles from the crowd.
Reigning Australian Open champion Sabalenka defeated Kostyuk in straight sets, 6-3 6-2, to move on to the second round. The 39th-ranked Ukrainian tennis player avoided eye contact with her Belarusian opponent as she walked directly towards the chair umpire after the defeat. She then gathered her belongings and left the court – ignoring the growing boos and whistles from the crowd.
This is not the first time Kostyuk has refused to shake hands with a Belarusian opponent. She said she was surprised by the reaction from the fans.
"I have to say… I didn't expect it... People should be, honestly, embarrassed," Kostyuk told reporters after the match.
Sabalenka was also confused by the crowd's reaction, and initially thought it was directed at her. "At first, I thought they were booing me," she said. "You're playing against a Ukrainian and you never know… will they support you or not?"
The Belarusian athlete said she understands her opponent and does not take it as a personal insult, adding that Kostyuk did "not deserve to leave the court that way."
"I understand why they are not shaking hands with us. I can imagine if they're gonna shake hands with us, and then what's gonna happen to them from the Ukrainian side?" Sabalenka said. "If she hates me, OK. I can't do anything about that."
Russian and Belarusian players have been cleared to play in Grand Slam tournaments under neutral status, after being barred from Wimbledon last season due to the conflict between Russia and Ukraine.
Kostyuk was a vocal supporter of the initial ban, and has joined fellow Ukrainian players such as Elina Svitolina in demanding that players from Russia and Belarus denounce their governments before they are allowed to compete.
Even though Sabalenka said on Sunday that "nobody in this world, Russian athletes or Belarusian athletes, supports the war," Kostyuk said she "does not respect" her position and urged her to "personally" come forward to denounce Russia and Belarus.
You can share this story on social media: