Lukashenko explains how to obtain nuclear weapons
The Belarusian leader called on other post-Soviet nations to join Moscow and Minsk in the Union State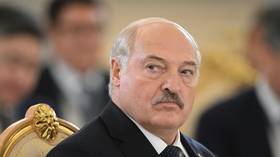 Post-Soviet nations that seek to bolster their defenses by hosting nuclear weapons on their territory should develop closer ties with Russia, Belarusian President Alexander Lukashenko told Russia 1 TV in an interview aired on Sunday.
"No one is against Kazakhstan or other nations having just as close relations to the Russian Federation as we have," Lukashenko told Pavel Zarubin of Russia 1 when asked about Astana's recent comments regarding relations between Moscow and Minsk, which allows the two neighbors to share the nuclear shield.
"One needs to join the Union State of Russia and Belarus, then there will be nuclear weapons for everyone," he said. "We need to understand that we have a unique strategic chance to unite."
Lukashenko added that he was only expressing his own opinion, which might not necessarily align with that of the Russians.
Earlier this week, Kazakhstan's president, Kassym-Jomart Tokayev, said: "even nuclear weapons are one for two now," noting the close level of integration between Russia and Belarus, which he claimed is different from that of other members of the Eurasian Economic Union, which also includes Armenia, Kazakhstan, and Kyrgyzstan.
Russian President Vladimir Putin announced in March that tactical nuclear weapons would be stationed in Belarus. On Saturday, Lukashenko said, "the deployment of nuclear munitions has already begun."
Russia has repeatedly stated that the weapons are not being handed over to Belarus, and that Moscow maintains full control over them.
The news about the deployment sparked criticism from Washington. US President Joe Biden told journalists that he feels "extremely negative" about the development.
The Russian Embassy in Washington responded by saying that it is Russia's "sovereign right" to make decisions to strengthen the security of its ally. The embassy also pointed to the US nuclear arsenal stationed in Europe.
At the moment, American tactical nuclear weapons are present in five European NATO countries – Belgium, Germany, Italy, the Netherlands, and Türkiye.
You can share this story on social media: