Russia signs nuclear arms deal with neighbor
The agreement stipulates the deployment of non-strategic weapons to Belarus in response to increased NATO activity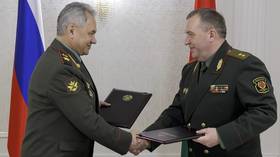 Moscow and Minsk have sealed an agreement on the deployment of Russian tactical nuclear weapons in Belarus. Explaining the need for the move, Russian Defense Minister Sergey Shoigu cited a recent increase in the number of NATO maneuvers involving weapons of mass destruction.
Shoigu and his Belarusian counterpart, Viktor Khrenin, on Thursday signed off on documents stipulating the terms of the deployment and storage of the Russian weapons.
The Russian minister emphasized that the move had come in response to the "acute escalation of threats and activities by NATO joint nuclear missions." He noted that the agreement involves "non-strategic nuclear weapons" and is in accordance with "all international legal obligations currently in force."
"Russia is not handing over nuclear weapons to the Belarusian Republic; control over it and the decision to use it remains with the Russian side," Shoigu added.
Moscow has provided Minsk with nuclear-capable Iskander-M missiles and has helped Belarus modify some of its fighter jets so they can carry nuclear weapons, the Russian minister revealed.
Shoigu also stated that "additional measures" could be taken going forward in order to ensure the "security of the Union State [between Russia and Belarus]."
Khrenin insisted that the agreement between the two allies "will be an effective response to the aggressive policies of countries that are hostile toward us." He also expressed hope that the deployment of Russian nuclear weapons to Belarus would make Western powers revise their activities in the region.
The Belarusian minister hailed the accord as further proof of the "strategic" importance of relations between Moscow and Minsk.
Russian President Vladimir Putin first announced in late March that Moscow would deploy nuclear weapons to Belarus at Minsk's request. He cited America's practice of stationing its own nuclear weapons in allied countries.
The US and NATO were quick to criticize Russia's decision, claiming it was "dangerous and irresponsible."
You can share this story on social media: