West's involvement in Ukraine conflict 'growing' – Kremlin
Common sense should dictate a red line for Kiev's backers, but this has not happened, according to President Putin's press secretary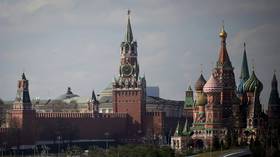 Western countries have broken every boundary in their stand-off with Moscow over Ukraine, Kremlin Press Secretary Dmitry Peskov has said in an interview aired by Russian journalist Pavel Zarubin.
In a video clip of the conversation released by the reporter on Saturday on his Telegram channel, Peskov was asked to comment on the recent decision by a number of Western countries to train Ukrainian pilots to fly American F-16 fighter jets and whether Peskov believed there was a line that the West would be reluctant to cross.
"It is difficult to say where this red line lies. In theory, reason should dictate this red line to the countries of the collective West," he said. "Unfortunately, this is not happening."
"It is obvious that the degree of direct and indirect involvement of the countries of the collective West in this conflict is growing every day."
However, while Peskov believes Western military assistance is capable of prolonging the conflict, he does not think it will have a decisive effect on the ground. "Russia will continue its operation, and Russia will secure its interests one way or another and will achieve its stated objectives," the spokesman said.
He went on to state that in a broader sense, Western countries "are waging war [against Russia] on all fronts, whether it is the economy, interstate relations, or property rights."
The West is attacking even things that used to be "sacred," the spokesman claimed. "We see that those unshakable foundations are crumbling under the feet of representatives of the collective West, who are not above using any means."
Against this backdrop, Peskov said that Russia should not let itself be carried away by emotions, while acting in a way that would best suit its interests.
Since the start of the Ukraine conflict, Western countries have slapped Moscow with unprecedented economic sanctions, freezing around half of Russia's gold and foreign exchange reserves in a move that was described by Moscow as theft. Western countries have also supplied Kiev with billions of dollars in military assistance, recently beginning deliberations on sending F-16 fighter jets to Ukraine and training the country's pilots.
You can share this story on social media: