One dead, minors injured in Ukrainian shelling of Russian region
Two teens suffered injuries in a strike on Russia's Belgorod Region, its governor says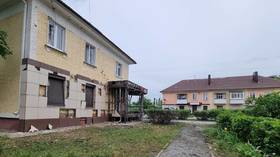 Ukrainian forces shelled Russia's Belgorod Region on Saturday, Governor Vyacheslav Gladkov said in a Telegram post. The attack close to the border claimed one life and left three people injured, and was so intense that it prevented the official from reachingthe scene at first.
The deceased was a local factory security guard, who was walking along a street at the time of the attack, Gladkov said. Two minors – a 15-year-old girl and a 17-year-old boy – were hospitalized after the attack, the governor said, adding that the girl had suffered injuries to her legs while the boy had a concussion. One more injured person was treated on the spot, the governor's statement added.
Ukrainian forces shelled the administrative center of the Shebekino district of Belgorod Region at least five times on Saturday alone, while the wider area has been shelled by mortar and artillery strikes over a hundred of times since Friday, Gladkov said in Telegram post.
"The first time we entered the town, we came under fire. Could not even get out of the car. The shells were exploding on the next street," the official said.
The strikes damaged civilian infrastructure, including at least 11 apartment buildings and six private houses, as well as several shops, Gladkov said upon inspecting the aftermath. Two local industrial facilities were also hit in the attack, causing a fire and damaging a power grid.
Russian regions bordering Ukraine have been frequently targeted by Ukrainian drone and artillery attacks throughout the ongoing conflict between Moscow and Kiev.
Belgorod Region authorities reported multiple drone attacks this week alone. Several UAVs were intercepted over the regional capital. The attacks resulted in no casualties, according to official information.
The attacks followed a deadly cross-border raid by Ukrainian neo-Nazi-linked militants, killing at least one villager and injuring several others, which forced the local governor to briefly impose "anti-terrorism" regulations in the region.
The group used US-made vehicles in the assault. The Russian Defense Ministry released footage of several disabled US-made equipment units, including Humvees and at least one MaxxPro MRAP armored fighting vehicle.
You can share this story on social media: