Drone bombs Belgorod street – governor
Russian air defenses intercepted several UAVs over the city in the past day, Vyacheslav Gladkov has said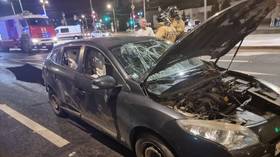 A civilian vehicle was damaged in yet another suspected Ukrainian drone attack on the Russian city of Belgorod on Tuesday evening, according to the governor of the border region which suffered a deadly militant raid the day before.
"In Belgorod, an explosive device was dropped from a UAV onto the roadway… Bomb experts and emergency services are working at the scene," Gladkov wrote on Telegram shortly after midnight.
There were no casualties in the attack, according to preliminary information, but at least one civilian car was damaged in the explosion, the official added, sharing a photo of the aftermath. Other footage posted by several Telegram news channels also showed what appeared to be debris of an improvised explosive device.
Some 30 minutes later, Gladkov wrote that the air defenses engaged and shot down a drone above the city. It was unclear if he was talking about the same device that dropped the bomb, but earlier on Tuesday he announced that several more drones had been intercepted in the area.
The incident follows a deadly cross-border raid by Ukrainian militants, which forced the governor to briefly impose "anti-terrorism operation" regulations in the region.
A group of Ukrainian raiders crossed the border into the Grayvoron district, west of the city of Belgorod, on Monday, killing at least one villager and injuring several others in their attack. The Russian military described them as a "sabotage-reconnaissance group" and estimated their strength at around 50-200 men, using US-made armored cars.
You can share this story on social media: