Russian police begin work in Artyomovsk
The city, known in Ukraine as Bakhmut, was captured by Russia's forces last week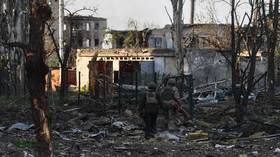 Russian police officers have started working in the city of Artyomovsk in the Donetsk People's Republic after the complete capture of the city from Ukraine last week, the acting head of the region announced on Wednesday.
"Starting from today, we have brought the Ministry of Internal Affairs of the Russian Federation to Artemovsk," Denis Pushilin said, adding that police officers would be tasked with locating and evacuating any civilians who may still be in the city.
He noted that, in the future, the Ministry of Emergency Situations and other Russian agencies would also start operating in Artyomovsk. After that, work on demining the city will begin, he said.
On Saturday, Evgeny Prigozhin, the head of the Wagner private military company, announced that the operation to take control of Artyomovsk had ended and that the city had been "fully captured."
He also said the Wagner Group would remain in Artyomovsk until Thursday, after which it will hand over control of the city to the Russian Defense Ministry and go on leave to rest and regroup.
The Russian Defense Ministry confirmed that the operation to capture the city had been successfully executed by the Wagner PMC with artillery and air support from regular Russian forces. President Vladimir Putin has congratulated Wagner servicemen and Russian military troops on their success.
Ukraine, which previously claimed that Artyomovsk would be defended at any cost and would become a turning point in the conflict between Moscow and Kiev, has thus far refused to admit the loss of the city.
The Ukrainian Defense Ministry has insisted that fighting for the city was still ongoing. However, at the same time, President Vladimir Zelensky's senior adviser Mikhail Podoliak vowed on Sunday that Ukraine's armed forces would inevitably recapture Artyomovsk.
A salt mining city with a pre-conflict population of 72,000, Artyomovsk has been the stage of a bloody battle for many months as the city is seen as a key strategic stronghold in the region. Russian forces nearly encircled it and methodically pushed the Ukrainian Army from the western suburbs. The city has been largely destroyed during the fighting.
You can share this story on social media: