Chinese delegation visits Moscow for 'security consultations'
The high-profile talks are an "integral part" of the countries' "strategic cooperation," Russia's Security Council stated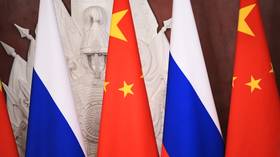 Top Russian and Chinese security officials met in Moscow on Monday to discuss cooperation between the two nations in various areas, the press service of Russia's Security Council has said.
"The prospects for joint efforts in the law enforcement sphere, in various areas of operational and service activities have been considered. Special attention was paid to plans for cooperation between the Russian Guard and the People's Armed Police of China, as well as between financial intelligence [services]," the statement said.
The talks involved an unspecified number of representatives of various ministries and government agencies of the two countries, according to the Russian side. The two sides discussed various issues, including "international information security," as well as "contacts between supervisory and investigative bodies" of the two nations.
The Chinese delegation was led by Chen Wenqing, a member of the Chinese Communist Party's Politburo. He was recently named secretary of the Central Political and Legal Affairs Commission, the country's top security post with oversight of judges, police, and intelligence. Russia's delegation was led by Russian Security Council Secretary Nikolay Patrushev.
The high-profile security talks, which are held annually, are an "integral and in-demand element of the Russian-Chinese comprehensive partnership and strategic cooperation," the press service said.
This was the second major Russia-China security event in just over a month. In mid-April, China's newly appointed Defense Minister Li Shangfu visited Moscow, where he met his Russian counterpart Sergey Shoigu, President Vladimir Putin, and other top officials during a three-day stay in Russia.
Li said at the time that the trip was intended to underscore Beijing's "firm determination to strengthen strategic cooperation between the militaries of China and Russia."
"After my appointment as the defense minister, my first visit is made to Russia in order to demonstrate to the outside world the high level of Chinese-Russian relations," he said ahead of the talks with Shoigu.
You can share this story on social media: