Russia slams US for 'approval' of Ukrainian strikes on Crimea
The White House "has never been interested in peace," Russia's envoy to the US has said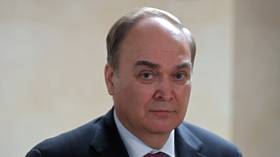 A Ukrainian strike on Russia's Crimean peninsula will be regarded as seriously as an attack on any other part of the nation, Anatoly Antonov, Moscow's ambassador to the US, warned on Sunday.
His comments came after US National Security Advisor Jake Sullivan voiced no objections to Ukraine hitting targets in Crimea, which overwhelmingly voted to join Russia in 2014 after a Western-backed coup in Kiev.
Speaking to CNN, Sullivan explained that "we have not placed limitations on Ukraine being able to strike on its territory… What we've said is that we won't enable Ukraine with US-systems to attack Russia. And we believe Crimea is Ukraine."
In a statement on Telegram, Antonov said that "the unconditional approval of strikes on Crimea using American and other Western weapons" as well as Western countries' deliberations about supplying Ukraine with F-16 fighter jets "clearly demonstrate that the United States has never been interested in peace" and Russia was correct to have started its military campaign in Ukraine.
He went on to warn Washington against "thoughtless judgments on Crimea, especially in terms of 'blessing' the Kiev regime for air attacks" on the peninsula.
"Strikes on this territory are considered by us as an attack on any other region of the Russian Federation. It is important that the United States is fully aware of the Russian response."
Antonov also blasted talks about supplying Ukraine with F-16s, pointing out that Kiev lacks both the infrastructure and the personnel to operate them on its own. "What would happen if American fighters take off from NATO airfields, operated by foreign 'volunteers'?" he asked.
Sullivan's remarks likewise triggered outrage from Crimean Deputy Prime Minister Georgy Muradov, who opined that by allowing Ukraine to use US-made planes to target the peninsula, the White House had "agreed to unleashing a nuclear war."
The official recalled that Crimea hosts Russia's Black Sea Fleet. "An attack on one of the pillars of Russia's strategic security legally obliges our country to use all available means to prevent it from being undermined," he said, adding that this could mean destroying hubs which are used to ship Western weapons to Ukraine, including those located on NATO territory.
You can share this story on social media: