Ukraine cuts electricity to Europe's largest nuclear power plant – official
The Zaporozhye facility has been connected to an emergency backup after the Dnieper power line was shut down, management have claimed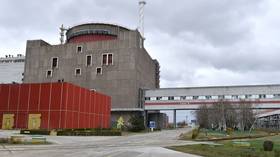 Russia's Zaporozhye Nuclear Power Plant, located near the front line with Ukraine, has been cut off from its external energy supply. According to a message posted on the facility's official Telegram channel on Monday morning, the radiation level is 'normal'.
Vladimir Rogov, a member of the main council of the administration of Zaporozhye Region, stated that diesel emergency power standby generators have been brought online to maintain the plant's operations after the Dnieper high-voltage power supply lines were cut off. According to Rogov, Ukrainian nuclear operator Energoatom is responsible for the shutdown.
The Zaporozhye power plant, the largest nuclear facility in Europe, has been at the center of the conflict between Russian and Ukrainian forces in recent months. It came under Russian control in February 2022. Since then, Moscow and Kiev have accused each other of shelling the plant, with each claiming that the other's actions could trigger a nuclear disaster. Zaporozhye Region became part of Russia following a referendum in September 2022.
While Kiev prepares to launch its long-awaited counteroffensive, the International Atomic Energy Agency has expressed concern regarding the plant. Director General Rafael Grossi warned earlier this month that the situation in the area near the facility was "becoming increasingly unpredictable and potentially dangerous."
You can share this story on social media: