Europe's largest nuclear power plant dormant – governor
Reactors at the installation have been shut down due to the threat of Ukrainian attacks, Russia's Zaporozhye governor has said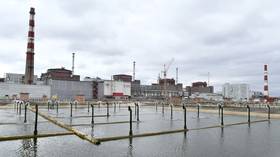 Russia's Zaporozhye Nuclear Power Plant has been put into a dormant state, the interim governor of Zaporozhye Region, Evgeniy Balitsky, has declared. The decision to halt the station's work was made due to the threat of "unpredictable" actions by Kiev, the official said on Monday.
"We understand that this is a manipulation. Therefore, the nuclear reactors have now been powered down. The fifth reactor is on hot standby. We do not understand what this monkey with a grenade can perform, so we have powered down the reactors," Balitsky told the Crimea 24 TV channel.
The reactor blocks were shut down last week, with their maintenance "continuing in accordance with all necessary regulations, with strict control of radiation safety standards," the director of the nuclear plant, Yuri Chernichuk, said on Friday.
Concerns over the safety of the Zaporozhye installation have skyrocketed as of late amid the looming, long-hyped Ukrainian counteroffensive. The security situation in the area near the facility was "becoming increasingly unpredictable and potentially dangerous," International Atomic Energy Agency (IAEA) Director General Rafael Mariano Grossi warned on Saturday.
"I'm extremely concerned about the very real nuclear safety and security risks facing the plant. We must act now to prevent the threat of a severe nuclear accident and its associated consequences for the population and the environment," he said.
Russian troops took control of Europe's largest nuclear power plant in March 2022. A subsidiary of Moscow's state-owned nuclear energy giant Rosatom formally assumed management of the plant last fall, when Zaporozhye Region voted to join Russia along with Kherson, Donetsk and Lugansk.
The nuclear facility has become the target for repeated artillery shelling and drone attacks by Kiev's forces. Apart from that, the Ukrainian military has repeatedly staged landing operations across the Dnepr River in an apparent attempt to seize the facility. So far, such attacks have been unsuccessful, and the station itself did not sustain critical damage, which may potentially result in a major nuclear catastrophe.
You can share this story on social media: