Key Donbass city fully liberated – Moscow
Artyomovsk has been captured, the Russian Defense Ministry has confirmed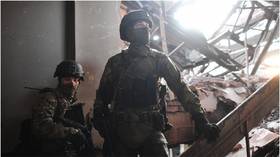 Russian troops have completely liberated the strategic Donbass city of Artyomovsk (known as Bakhmut in Ukraine), the scene of a grueling battle for many months, the Russian Defense Ministry confirmed in the early hours of Sunday.
The operation in the city was executed by the Wagner private military group with artillery and air support from regular Russian forces, the MOD announced.
The statement came hours after Wagner chief Evgeny Prigozhin announced on social media that his fighters had taken complete control of the city.
Ukraine denied that the city had fallen, however. Deputy Defense Minister Anna Malyar claimed that the statements about the capture of Artyomovsk were "premature."
A salt mining city with a pre-conflict population of 72,000, Artyomovsk has been the stage of a bloody battle for many months as Russian forces nearly encircled it and methodically pushed the Ukrainian Army from the western suburbs. The city was largely destroyed during the fighting.
Prigozhin warned earlier this month that his soldiers were taking heavy casualties due to ammunition shortages. He later said the situation with supplies had improved and that Wagner troops were clearing the last pockets of resistance.
You can share this story on social media: