Key Donbass city captured – Wagner chief
The battle against Ukrainian forces for Artyomovsk has gone on since last year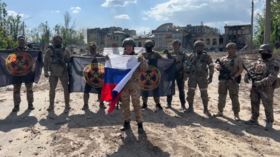 The key Donbass city of Artyomovsk, known as Bakhmut in Ukraine, has been fully liberated by the Russian forces, Evgeny Prigozhin, the head of the Wagner private military company has announced.
"Today at noon, Bakhmut was fully captured," Prigozhin said in a video address published on Saturday.
The last part of an area of high-rise buildings where the Ukrainians were holed up is now under the control of Russian forces, he stated.
The Wagner Group will remain in Artyomovsk until Thursday, Prigozhin said, adding that during this period, fortifications will be created across the city.
Control will then be passed on to the Russian Defense Ministry, and Wagner Group servicemen will go on leave to rest and regroup following months of intense fighting.
According to Prigozhin, the PMC's operation in the city, which he called 'the Bakhmut meat-grinder', had gone on for 224 days. "We've taken the whole city – every building – so that nobody could say that we didn't capture some small part of it," he said.
Kiev has denied Prigozhin's claims that Artyomovsk has been captured. Ukrainian military spokesman Sergey Cherevaty told Reuters: "This is not true. Our units are fighting in Bakhmut."
The Wagner chief also personally addressed Ukraine's president, Vladimir Zelensky, saying, "without sarcasm" that the Ukrainian troops "fought bravely, fought well" defending Artyomovsk.
"Today, when you see [US President Joe] Biden, kiss him on the top of his head and tell him that I said 'hi,'" he said.
Earlier on Saturday, Zelensky arrived at the G7 summit in Hiroshima, Japan, where he is expected to hold talks with Biden.
You can share this story on social media: