Three civilians killed in shelling of Donetsk – mayor
Ukrainian forces allegedly used 155-mm shells in an attack that destroyed a store in the city's Kuibyshevskiy district, according to officials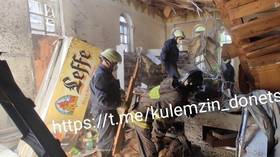 Kiev's troops carried out another series of artillery strikes on civilian infrastructure in the city of Donetsk on Wednesday, on this occasion causing at least three civilian deaths, city officials have reported.
According to the head of the Donetsk administration Aleksey Kulemzin, who detailed the attack on his official Telegram channel, the shelling hit a grocery store and resulted in the death of three civilians and injuries to two others.
The city official shared photos of the aftermath of the "barbaric shelling" on his channel, noting that the attacks on the region were ongoing and asking residents to exercise caution.
He also claimed that shelling was reported in the village of Elenovka, where Kiev's forces allegedly struck a bread factory as well as several residential buildings. According to Kulemzin, two civilians were injured in the strikes on Elenovka.
The Donetsk People's Republic Central Control, which tracks and reports Ukrainian strikes on the territory of the DPR, stated that Kiev's forces had launched several dozen 155-mm caliber shells targeting various districts and villages of Donetsk on Wednesday.
Donetsk is the capital of the DPR, one of four former Ukrainian regions which voted to join Russia last year. Since the start of Russia's military operation in Ukraine, the DPR, along with the neighboring Lugansk People's Republic, have repeatedly been shelled by Kiev's armed forces. The attacks have caused numerous civilian deaths and injuries.
Last week, Kulemzin reported that a mother and her four-year-old son had been burned alive in Donetsk after a Ukrainian missile struck their house and caused a fire. The mayor reported that six other people had been injured that day and Kiev's forces had also damaged 18 residential buildings and three civilian infrastructure facilities in Donetsk and the nearby town of Gorlovka.
You can share this story on social media: