Ukraine lying about taking down hypersonic missile – Izvestia
Kiev's radar surveillance systems have failed to detect most Kinzhal launches, military sources have told the Russian newspaper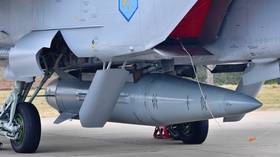 Kiev's claims that it intercepted a Russian hypersonic Kinzhal missile with a US-made Patriot air defense system are not true, several sources within the Russian military and defense industry told the newspaper Izvestia on Saturday. Ukrainian forces have failed to hit a single such missile to date, the sources added.
Most Kinzhal launches are not even detected by either Ukrainian or NATO radar surveillance systems, the Russian media outlet claimed, citing the same anonymous sources.
Izvestia also reported that the remnants of what was claimed to be a Kinzhal displayed by Kiev on May 10 might have belonged to another Russian missile – the 9M723 – launched by the ground-based short-range ballistic missile system Iskander-M. Some elements of the two missiles' construction are similar, although the Iskander-M has been used much more frequently by Russian forces during the ongoing campaign in Ukraine, a military expert told reporters.
Kiev showed on May 10 the remnants of what it said were several missiles, one of which it claimed was a Kinzhal. However, Izvestia's sources said that, judging by the looks of what was displayed, all of the missiles had fulfilled their aims rather than being intercepted.
On Thursday, another source within the Russian military also called the reports about an interception of the Russian Kinzhal missile by the Patriot system "an attempt to substitute a wish for reality." The hypersonic missile has a speed exceeding the maximum interception capabilities of any air-defense systems used by Ukraine, including the Patriot, the source told TASS. The Kinzhal also executes a special maneuver to avoid interception and makes an almost vertical approach to the target, the source added.
Kiev reportedly inflates the number of Russian missiles its forces intercept to justify such heavy use of ammunition for the air-defense systems supplied by the West. "The number of interceptions is two-three times higher than the number [of missiles] we really launch," the source said, adding that sometimes Kiev reports intercepting missiles that Russia did not even launch.
Last week, Ukraine's Air Force commander, Lieutenant General Nikolay Oleshuk, claimed on his Telegram channel that Kiev's forces had intercepted a hypersonic Kinzhal missile. On May 9, the Pentagon press secretary, Brigadier General Patrick Ryder, told journalists that the US Defense Department "can confirm that the Ukrainians took down this Russian missile with a Patriot missile defense system." He said, though, that he would not "get into the specifics" or try to "characterize" the missile supposedly intercepted by Kiev.
You can share this story on social media: