Another aircraft crashes near Ukraine's border
Reports on the incident came shortly after an unidentified helicopter went down in Bryansk Region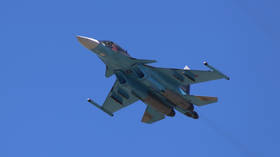 An Su-34 fighter jet crashed in Bryansk Region, Russia near the Ukrainian border, minutes after reports that an unidentified helicopter also went down in the area, TASS news agency reported on Saturday, citing sources.
The agency provided no details on casualties, saying the authorities are working to clarify the situation.
The Telegram channel Baza released a video of a purported crash site, showing what appears to be the aircraft's tail and engine engulfed in flames.
Mash Telegram channel reported that the Su-34 went down near the village of Istrovka north of the Ukrainian border, claiming that its crew – a pilot and navigator – were killed.
Earlier on Saturday, a helicopter crashed in the same region. According to Baza, the local authorities are conducting an operation in search of the culprits, who could have played a role in both incidents, adding that the helicopter and the fighter jet could have been downed by agents acting on Russian soil.
Both incidents come after a Russian Mi-28 attack helicopter crashed over the Crimean Peninsula on Friday. Both of its pilots were killed. Moscow's Ministry of Defense said the aircraft was on a training flight and had no ammunition aboard, adding that the crash did not result in any other casualties or damage on the ground.
You can share this story on social media: