No peace talks 'on Russian terms' – Kiev
Ukraine will not "sell out" despite foreign pressure, the country's National Security Council secretary has said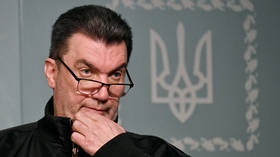 Kiev will not negotiate with Moscow unless it is done on its own terms, the secretary of the Ukrainian National Security and Defense Council has pledged. Aleksey Danilov also claimed a pressure campaign is underway involving several other countries to kick-start peace talks.
"I want you to realize that they ramp up tensions to make us sit down at the negotiation table on Russia's terms," the top official said in an interview on national television on Thursday.
"Nobody will sell out our national interests, regardless of how many representatives of other countries who are engaged in this situation want that to happen," he added. Danilov did not name any officials or nations from which the supposed pressure is coming.
Kiev has pledged to fight Russia until it regains full control over lands that Ukraine considers to be its sovereign territory. President Vladimir Zelensky has also signed into law a ban on talks, forbidding any engagement with Russia as long as President Vladimir Putin is in power.
Moscow noted that Ukraine took its uncompromising position after a draft peace treaty based on Kiev's proposals was penned by the two parties in March 2022. Russian officials said the U-turn was ordered by the US and its allies, who seek to inflict a "strategic defeat" on Moscow, regardless of how many Ukrainian lives are lost. Russia considers the hostilities to be part of a Western proxy war.
The Ukrainian military is expected to launch a major counteroffensive against Russia in the near future. Western media have described the promised operation as a make-or-break moment for Kiev, arguing that without significant gains on the ground it may struggle to secure future packages of military assistance from foreign donors.
Ukrainian officials have downplayed the significance of the much-touted push, urging continued military support regardless of its outcome.
You can share this story on social media: