West only interested in 'talking down' to Russia – Kremlin 
Moscow has blamed the US and its allies for the breakdown of relations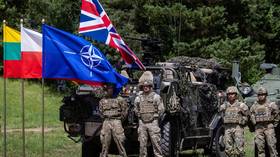 The West forced Russia to launch its military operation in Ukraine by expanding NATO, deceiving and refusing to treat Moscow as an equal partner, Kremlin spokesman Dmitry Peskov insisted on Wednesday.
Speaking with the Bosnian Serb outlet ATV, the spokesman for Russian President Vladimir Putin said that Moscow had tried everything over the years, but the collective West was interested "only in the kind of cooperation where they would be on top, and we would be on the bottom."
A series of moves and "mistakes" of the West, which practically ruled out normal cooperation and attempted to impose its will on Russia, eventually led to Putin's decision to launch the Ukraine operation, Peskov explained. The US, EU and NATO then became directly involved in the conflict, he said, de facto joining Kiev by supplying Ukraine with money, weapons, ammunition and military equipment.
"Russia is too great a country to be treated that way, and too strong a country to give up its positions," the Kremlin spokesman said.
"It was the West that expanded NATO in six waves towards the borders of Russia," then lied about never promising "not an inch to the East," Peskov said. When evidence of the promises emerged, the West shifted to arguing they didn't commit to anything in writing, he added.
"It was the Western states that organized the coup d'etat in Ukraine in 2014, in the heart of Europe," Peskov explained. "They may have forgotten, so we keep reminding them." He brought up the fact that US diplomat Victoria Nuland handed out pastries to the Maidan protesters, and how German, French and Polish governments gave guarantees to then-president Viktor Yanukovich that the coup then trampled.
"These same states closed their eyes for eight years, while the Kiev regime used tanks and artillery against its own people," Peskov pointed out. "They called the people who opposed the coup separatists and bombed and killed them. Those same states refused to say one word in condemnation of the Kiev regime, and later refused to talk with President Putin when he proposed a deal on security guarantees for Russia," he reminded ATV.
With Ukraine becoming an anti-Russian state and seeking to join NATO, Russia was forced to defend its interests, and the lives of the people of Donbass, Peskov said.
You can share this story on social media: