Russian pipeline supplying oil to EU bombed by Kiev's forces – Transneft
No one was hurt in the attempted "terrorist attack" in Bryansk Region, the oil company says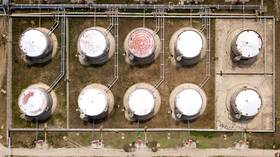 A loading station of the Druzhba oil pipeline in Russia's Bryansk Region, near Ukraine, was shelled early on Wednesday, its operator – the Transneft oil company – has claimed.
The incident was first reported by the Baza Telegram channel, which said that the facility in the village of Sven had been attacked twice within 20 minutes at around 5:00am local time. Three empty fuel storage tanks were hit by shells, with several ten-centimeter holes detected in them afterwards, it added.
A few hours later, the operator of the Druzhba pipeline, Russian oil company Transneft, confirmed the attack to Tass news agency.
"Yes, early this morning there really was an attempt to commit a terrorist act against the Druzhba oil pipeline system at the 'Bryansk' loading station," the company's spokesman, Igor Demin, told the agency.
"No one was hurt or injured" as a result of the attack, Demin said, adding that the "relevant authorities" have been investigating the incident.
The Druzhba (Friendship) pipeline is one of the largest oil transport networks in the world, spanning some 4,000km (2,485 miles) and bringing oil from Russia to Ukraine, Belarus, Poland, Hungary, Slovakia, the Czech Republic, Austria and Germany.
The pipeline's facilities in Bryansk Region have frequently been targeted from the Ukrainian side amid the conflict between Moscow and Kiev. In March, Transneft said that several explosive devices, which were apparently dropped by drones, had been discovered at the Novozybkov oil-pumping station. A few weeks before that, the same facility was shelled, but no significant damage was done.
The Russian regions of Bryansk, Belgorod, and Kursk, all of which border Ukraine, have been attacked on numerous occasions by the Kiev forces over the past year. The drone and missile strikes have been directed at energy infrastructure and residential areas, resulting in several civilian deaths and many injuries, and in the destruction of property.
Bryansk Region has recently become the main hotspot. Two freight trains have derailed after explosive devices damaged tracks in the area this month, but casualties were luckily avoided. Last month, the area saw one of the deadliest Ukrainian cross-border strikes since the outbreak of the conflict. The shelling of Suzemka village from a multiple rocket launcher left four civilians dead and two wounded.
In March, a group of gunmen crossed the border from Ukraine before attacking civilians and planting explosive devices in settlements in the area. Two people were killed and a ten-year-old boy wounded in that incursion.
You can share this story on social media: