Another train derailed by sabotage in Russian region bordering Ukraine – media
Damage to a railroad track in the Bryansk Region has caused a crash, local outlets have reported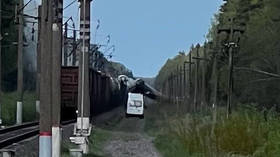 A freight train with some 20 cars derailed on Tuesday outside the city of Bryansk, in a Russian region near the northern border of Ukraine. Authorities have blamed the incident on "interference by unauthorized persons in the work of railway transport."
According to local media, an explosion damaged the tracks while a freight train was transiting the non-electrified portion of the line near the Snezhetskaya station, located southeast of Bryansk city. Russian Railways said the incident happened at around 7:47pm local time.
Preliminary reports have not indicated any casualties. First responders have been dispatched to the scene, along with recovery equipment, the railway company said.
This is the second reported instance of railway sabotage in Bryansk Region in a week. On Monday, a portion of track was blown up near Unecha, closer to the border with Ukraine. A freight train derailed and caught fire as a result. Snezhetskaya, where Tuesday's incident took place, is about 120 kilometers from the border.
Ukrainian forces have stepped up artillery attacks and sabotage on Russian territory this week, possibly in connection with the much-heralded offensive prepared with the help of NATO. Four civilians were killed and two wounded in a rocket attack on the border village of Suzemka in Bryansk on Monday. Multiple artillery attacks were also reported in Kherson, Zaporozhye and Donetsk regions.
On Tuesday, the deputy police chief of Melitopol in Zaporozhye was injured when a bomb planted at the gate of his house went off. Later in the day, Russian security services detained three people suspected of killing another police official last week.
You can share this story on social media: