Explosion derails train in Russian region bordering Ukraine
A cargo train has veered off track in Bryansk, according to the local governor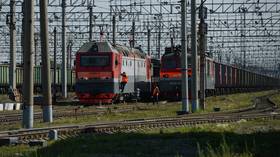 An explosive device planted on the tracks has caused the derailment of a cargo train in Russia's Bryansk Region, which borders Ukraine, the local governor has said.
"An unidentified explosive device has detonated, causing a locomotive of a cargo train to go off track," Aleksandr Bogomaz wrote on Telegram on Monday.
The incident, which happened in the region's Unechsky District, did not result in any casualties, the governor said.
Traffic on the affected line has been halted, with rescuers and other services working on site, he added.
Russian Railways has confirmed the incident, saying it occurred at 10:17 Moscow time (7:17 GMT) and caused the locomotive and seven cars to go off track. The engine also caught fire in the crash, it added.
Early on Sunday, Bryansk Region came under one of the deadliest Ukrainian cross-border strikes since the outbreak of the conflict more than a year ago. The shelling of Suzemka village from a multiple rocket launcher left four civilians dead and two wounded, according local authorities.
The Russian regions of Bryansk, Belgorod and Kursk, all of which border Ukraine, have been the targets of numerous drone and missile attacks by Kiev's forces over the past year.
The strikes have been directed against energy infrastructure and residential areas, resulting in several civilian deaths and many injuries, and in the destruction of property.
Bryansk Region suffered a major terrorist incident in early March when a group of gunmen crossed the border from Ukraine before attacking civilians and planting explosive devices. Two people were killed and a ten-year-old boy wounded in that incursion.
You can share this story on social media: