Six killed by wildfires in Russia's Urals – TASS
Most of the fires have been localized by now, Emergency Minister Aleksandr Kurenkov says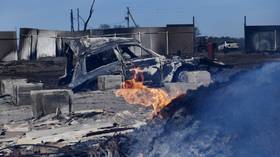 The death toll resulting from wildfires in Kurgan Region in Russia's Urals has grown to six, news agency TASS has reported, citing the health authorities locally.
Medics on the ground also told the agency on Monday that 14 others have been hospitalized. Most of these had suffered burns, they added.
On Sunday, Russia's Investigative Committee said that, according to preliminary data, there were at least three fatalities resulting from wildfires in the region. Criminal negligence cases have been launched over these deaths.
Russia's Emergency Minister Aleksandr Kurenkov arrived on Monday in Kurgan Region, which is located along Russia's border with Kazakhstan, to personally oversee efforts to contain the disaster. "Most of the wildfires have been localized by now," he reported, after joining an airborne inspection of the affected areas by helicopter.
According to the Emergencies Ministry, six out of nine wildfires that threatened residential areas in the region have been localized, with one being fully extinguished.
Almost 1,300 rescuers and over 330 units of specialized hardware have been involved in tackling the wildfires. Specialized planes have so far dropped more than 165 tons of water on the fire fronts, the ministry said.
Also on Monday, Russia's Defense Ministry announced that it'll be sending two of its Il-76 transport aircraft to the region, which are equipped for firefighting missions.
A state of emergency was declared in Kurgan Region in late April due to large-scale wildfires. More than 40 buildings have been destroyed by blazes in the region, a source in the emergency services told TASS.
The situation with wildfires remains difficult not only in Kurgan Region, but also in other areas in the Urals, including Sverdlovsk and Tyumen Regions.
You can share this story on social media: