Wildfires kill dozens in Chile
Scorching summer temperatures have helped spread the flames, some of which were apparently started intentionally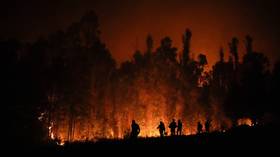 At least 23 people have died and nearly 1,000 have been injured in wildfires raging across several regions of Chile, the country's government said. A state of emergency was extended on Saturday, and officials expect the situation to worsen.
The death toll was announced at a briefing shortly after the government extended the emergency order to the region of Araucania, located roughly halfway down the country's 2,700 miles (4,300 km) of Pacific coastline. Similar orders, which allow for the deployment of the military, were given in the regions of Biobio and Nuble earlier in the week.
"Weather conditions have made it very difficult to put out (the fires) that are spreading and the emergency is getting worse," Interior Minister Carolina Toha told reporters at the briefing, according to Reuters.
More scenes from Chile's wildfire bust this week. Here in Tomè crews are doing structure protection after the fire jumped the road. I've been told by folks that are in the know that there that there is only one Aerotek platform available for the entire country. #wildfire#chilepic.twitter.com/VTm2PLWNAM

— TheHotshotWakeUp: Podcast (@HotshotWake) February 3, 2023
Some 76 fires took hold on Friday, while a further 16 began on Saturday, Toha stated. These blazes spread rapidly across forests and farmland as temperatures climbed above 40 degrees celsius.
Among those killed were a Bolivian helicopter pilot who was working to put out the fires in Araucania. Both the pilot and his mechanic died when their aircraft crashed. In addition to the 23 killed and 979 injured, more than 1,100 people from the sparsely-populated provinces have sought emergency shelter.
As of Saturday, 231 fires in total were burning, and an area of 40,000 hectares had been scorched.
In a press conference on Friday, Chilean President Gabriel Boric said that there were "signs" that some of the fires were started intentionally. "In case there is intentionality we will move heaven, sea and earth to find those responsible," he warned.
You can share this story on social media: