Ukrainian missiles intercepted over Crimea – officials
At least two Ukrainian tactical ballistic missiles have been shot down over Russia's Crimean Peninsula, according to local officials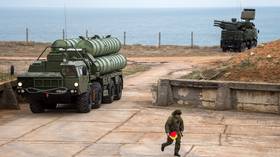 Ukrainian forces launched at least two ballistic missiles toward the Russian region of Crimea on Saturday. The projectiles were intercepted by anti-aircraft defenses.
The incident was first revealed by the head of the Republic of Crimea, Sergey Aksenov, in a Telegram post. He identified one projectile as a tactical ballistic missile that was shot from a Ukrainian Grom-2 mobile launcher. While Aksenov said a single projectile was fired, his aide said shortly thereafter that two Grom-2 missiles were launched, and both of them were successfully intercepted.
Footage shared online shows a large crater in the middle of a field, purportedly left by one of the intercepted missiles. It was reportedly downed near the southeastern Crimean coastal town of Alushta.
Crimea has repeatedly been the target of Kiev's drone and missile strikes. Attempts to attack the peninsula have apparently intensified in recent weeks.
The peninsula, which split from Ukraine in the aftermath of the 2014 Western-backed Maidan coup, and overwhelmingly voted to become part of Russia, has been repeatedly named by senior Ukrainian officials as a prime target in the looming and much-hyped Ukrainian counteroffensive.
You can share this story on social media: