Wagner boss announces 'withdrawal from Bakhmut'
Evgeny Prigozhin says his troops need time to recover and has asked the regular Russian Army to take over their positions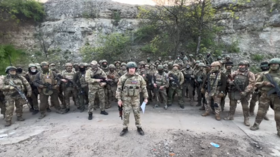 The head of the Wagner Group Private Military Company, Evgeny Prigozhin, has announced that his forces will be withdrawing from the key Donbass city of Artyomovsk (known in Ukrainian as Bakhmut) on May 10. He has asked the Russian Army to take over the positions Wagner forces held in the city, while fighters recover.
In a video published on Prigozhin's press service on Telegram, which was accompanied by an open letter addressed to the Defense Ministry, the president, and the people, the Wagner chief complained that his forces were not receiving enough artillery munitions and were unable to continue to hold the city, which is a regional logistics hub and was the site of months of urban warfare.
He said that his forces were supposed to have completely captured Artyomovsk by May 9, but claimed that since May 1, "paramilitary bureaucrats" had cut off his troops from nearly all artillery munitions.
"The offensive resources of PMC Wagner ran out at the beginning of April, but we are advancing despite the fact that the enemy forces outnumber us by five times," Prigozhin said, adding that due to the lack of ammunition, Wagner's losses are growing exponentially every day.
"Despite all this, the council of Wagner PMC commanders has decided to hold their positions and continue the offensive on Bakhmut until May 10, 2023, in order to celebrate the sacred holiday for Russians – May 9, Victory Day – with the brilliance of Russian weapons," the statement reads.
Prigozhin declared that on May 10, his fighters will hand over their positions in Artyomovsk to the Russian Army and withdraw the remnants of the Wagner PMC to rear camps to "lick their wounds."
The PMC chief concluded by saying "we will lick our wounds, and when the motherland will be in danger, we will once again stand for its defense. The Russian people can count on us."
Vladimir Putin's press secretary, Dmitry Peskov, said the Kremlin is aware of Prigozhin's statement, but declined to comment on the matter, as it has to do with Russia's military operation in Ukraine.
The battle for Artyomovsk, a key rail and road junction in Donbass, has emerged as one of the most intense and bloody engagements of the conflict in Ukraine, with both sides reportedly suffering significant casualties. Wagner forces have been at the forefront of the street fighting in the city. Kiev has sent tens of thousands of soldiers to the front, despite Wagner and other Russian troops establishing control over all the supply roads, leaving the Ukrainians almost surrounded.
You can share this story on social media: