US lacks 'guts' to condemn drone attack on Kremlin – envoy
Washington is protecting "the Kiev criminals," Russian Ambassador Anatoly Antonov has said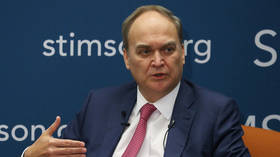 Washington is "shielding" the Ukrainian officials who sent drones to attack the Kremlin and planned to assassinate Russian President Vladimir Putin, Anatoly Antonov, Russia's ambassador to the US, claimed on Thursday.
His statement came after Putin's office reported that two Ukrainian UAVs had been disabled by air defenses while trying to strike the president's Kremlin residence in Moscow early Wednesday morning.
Putin was not in the Kremlin when the incidents took place, and no one was hurt.
"We hoped that the administration [of US President Joe Biden] would have the guts and dignity to condemn this terrorist act," Antonov said, according to the embassy's Telegram channel. He called claims that the raid was a false-flag operation "deceitful" and accused Washington of "shielding the Kiev criminals."
How would Americans react if a drone hit the White House, the Capitol, or the Pentagon? The answer is obvious for any politician as well as for an average citizen: The punishment will be harsh and inevitable.
Antonov reiterated Russia's claim that the failed drone strike was a terrorist attack and an attempt on Putin's life. He noted that the raid occurred just days before the World War II Victory Day parade on Red Square next Tuesday, which will be attended by Putin, senior officials, and foreign guests. Antonov added that the raid demonstrates that "our adversaries have no desire to seek peace."
Ukrainian President Vladimir Zelensky denied that his country was involved in the raid.
US Secretary of State Antony Blinken told reporters on Wednesday that the US could not "in any way validate" Russia's claims about the attack. "I would take anything coming out of the Kremlin with a very large shaker of salt," he added.
White House spokeswoman Karine Jean-Pierre said the US could not confirm the "authenticity" of Russian reports about the incident. She continued by saying that Washington is "not encouraging or enabling Ukraine to strike beyond its borders."
The Kremlin said Russia would retaliate to the raid "anywhere and anytime it deems necessary."
You can share this story on social media: