Second overnight drone incident at Russian refinery – authorities
The facility in Rostov Region has sustained mild damage, according to the governor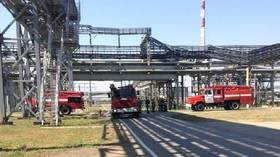 An oil refinery in Russia's southern Rostov Region sustained some damage after being hit by a drone overnight, the governor has reported. It was one of several similar incidents this week.
The attack targeted the Novoshakhtinsk facility, 60km north of the provincial capital, Rostov-on-Don, Governor Vasily Golubev said on social media on Thursday morning. The unmanned aircraft blew up after hitting an overpass connecting two shops.
The governor said the blast caused a small fire, which was quickly put out by workers at the plant. No casualties and only minor damage resulted, the official added. The work of the refinery was reportedly not affected.
There have been a number of kamikaze drone strikes targeting oil depots and refineries in Russia in recent days. On Thursday morning, a fire broke out at a petrol storage facility in Krasnodar Region, prompting a large response by firefighters.
Earlier in the week, there was a drone incident at another oil facility in the same region, and last week, an oil terminal was hit in the city of Sevastopol in Crimea. Kiev claimed responsibility for the latter, stating that the attack was meant to disrupt Russian military logistics ahead of the long-expected Ukrainian counteroffensive.
On Tuesday night, two drones flew towards the Kremlin before being intercepted over the premises. The Russian government claimed it was an attempt by Ukraine to assassinate President Vladimir Putin. Kiev denied responsibility, claiming it does not attack targets in Russia.
You can share this story on social media: