Blasts reported across Ukraine
Air-raid alerts were issued in many parts of the country, including Kiev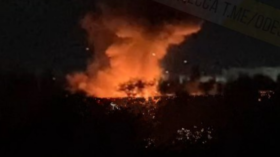 Ukrainian media reported a series of explosions in the capital and several other cities, with air defenses activated to repel supposed Russian drone and missile attacks on Thursday morning.

Several blasts were heard in Kiev after the city's administration warned residents of an incoming attack around 2am local time, according to UNIAN news agency.
At the same time, explosions were reported in Odessa, RBK Ukraine news agency reports. Unconfirmed photos and videos of the purported strikes were shared on Telegram.
Calls for the public to heed warnings about missile threats have also come from Nikolayev, Poltava, Chernigov, Sumy, Kharkov, and Dnepropetrovsk Regions, among others.
The Russian Defense Ministry has so far not commented on the matter.
The reported strikes come after Ukraine allegedly launched two drone attacks intended to strike the Kremlin in Moscow. The aircraft were downed using electronic warfare measures and did not cause any casualties or damage, according to Russian President Vladimir Putin's office.
"We consider this a preplanned terrorist act and an attempt against the Russian president," a statement from the Kremlin read.
Russia reserves the right to retaliate in a manner, place, and time of its choosing, it added.
You can share this story on social media: