Russia's top MP calls for use of weapons 'capable of destroying Kiev regime'
State Duma Chairman Vyacheslav Volodin has branded Ukraine a terrorist state after a failed drone attack on the Kremlin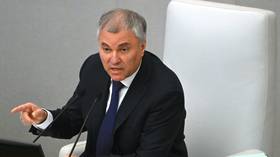 Senior Russian lawmaker Vyacheslav Volodin has called on Moscow to use any weapons necessary to remove the "Nazi regime" in Kiev. The comments followed a failed Ukrainian drone attack on the Kremlin that allegedly targeted President Vladimir Putin in the early hours of Wednesday morning.
"The terrorist act against the president is an attack on Russia," Volodin, who serves as State Duma chairman, said in a Telegram post.
"[Vladimir] Zelensky, who gave orders to carry out terrorist attacks, now stands on a par with other international terrorists," he added, referring to the Ukrainian president. Volodin claimed that the government in Kiev is as dangerous as groups such as Al-Qaeda and Islamic State (IS, formerly ISIS).
He further alleged that Ukraine's "criminal methods" have become evident to the entire world, accusing it of tactics including nuclear blackmail, the assassination of public and political figures, the sabotage of civilian infrastructure, and attempts on Putin's life.
"The Kiev terrorist regime, having seized an entire state, threatens the security of Russia, Europe, and the whole world," the Duma official added. He insisted that Western nations which are pumping Zelensky's government with weapons are now "direct accomplices" to terrorist activities.
Volodin proclaimed that there "can be no negotiations with the Zelensky regime" following the attempted attack on the Kremlin, and vowed that Russian lawmakers will "demand the use of weapons capable of stopping and destroying the Kiev terrorist regime."
The message comes after Ukraine allegedly launched two drone attacks intended to strike Putin's Kremlin residence, as reported by the Russian president's office on Wednesday. The aircraft were downed using electronic warfare measures and did not cause any casualties or damage. Putin was unharmed and was not present in the Kremlin at the time of the incident.
"We consider this a preplanned terrorist action and an attempt against the Russian president," a message from the Kremlin read. It noted that the incident happened "ahead of Victory Day and the parade on May 9, when foreign guests plan to be present."
Russia reserves the right to retaliate in a manner, place, and time of its choosing, the statement added.
You can share this story on social media: