Putin unhurt by drone attack – Kremlin
The Russian president's work schedule remains unchanged, the Kremlin press service said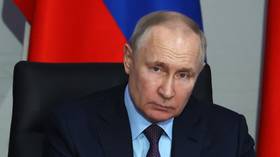 Russian President Vladimir Putin was not harmed by an overnight attempted drone strike on the Kremlin, his press service announced on Wednesday.
"As a result of this terrorist act, the President of the Russian Federation was not injured. His work schedule has not changed, it continues as usual," the message said.
Putin's spokesperson Dmitry Peskov explained that the head of state was not in the Kremlin during what he described as a Ukrainian UAV attack on Tuesday night. He noted that President Putin is currently working from his residence near Moscow.
Peskov also noted that the attack will not affect the Victory Day parade set for May 9 on the Red Square.
The Kremlin previously reported that two UAVs had targeted the Kremlin, but were both brought down before they could cause any damage.
"Two unmanned aerial vehicles were aimed at the Kremlin. As a result of timely actions taken by the military and special services using radar warfare systems, the devices were disabled," the Kremlin press service said.
Moscow has described the incident as a terrorist attack, saying it reserves the right to retaliate in a manner, place and time of its choosing.
"We consider this a pre-planned terrorist action and an attempt against the Russian president," the statement said, noting that the incident happened "ahead of Victory Day and the parade on May 9, when foreign guests plan to be present."
You can share this story on social media: