Basketball star seriously injured in street attack
Former NBA player Alexey Shved was attacked while leaving a Moscow restaurant, his team said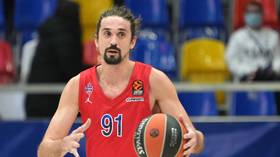 A former NBA basketball star was assaulted in Moscow late Monday, his team said on Tuesday. CSKA Moscow revealed that the attack on Alexey Shved resulted in serious injuries and means that the player will have to sit out a number of games.
Former New York Knicks Star Shved, who plays in shooting guard position, "suffered from a hooligan attack last night which took place at the exit of one of the Moscow restaurants," CSKA explained.
"The basketball player suffered a serious head trauma as a result of a fall and was taken to the hospital by ambulance," the statement continued, adding that Shved had filed a request with the police to investigate the incident.
Without providing any further detail on the attack, CSKA Moscow said that due to the incident the athlete would not be able to take part in upcoming competitions. However, it did not clarify how long Shved would be absent from the line-up.
Commenting on the incident, CSKA's President and CEO Andrey Vatutin told RIA Novosti that Shved's life was not in danger but the full extent of his injuries would only be known later, and added that the player would remain in hospital as long as necessary.
According to local media, the basketball star had been dining in a restaurant in central Moscow with his wife and friends. As he stepped out into the street, Shved had an altercation with a group of five unidentified men. After being hit and knocked down, he was reportedly protected by the restaurant employees who rallied to his aid.
During his career, Shved, 34, starred with several Russian and NBA basketball teams, including The New York Knicks. The veteran athlete also played with the Russian national basketball team, winning bronze medals at EuroBasket 2011 and the 2012 Olympics in London. In 2021, he announced his decision to leave the national team, pointing to his age.
The same year, he returned to CSKA Moscow, a club where he started his professional career almost 20 years ago and where he became a four-time Russian League Champion.
You can share this story on social media: