German man deported from Russia for 'LGBTQ propaganda'
The language teacher had earlier been found guilty of promoting same-sex relations online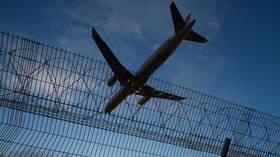 A German man, who had previously been convicted of spreading LGBTQ propaganda, has been expelled from Russia for breaking the law in Russia's Far East, the local Federal Bailiff Service has said.
"The employees of the Kamchatka Department of the Federal Bailiff Service have executed a court decision to expel a German citizen, convicted of promoting LGBT values, from the country," the agency said on Tuesday.
The bailiffs escorted the man from Kamchatka to Moscow, where he will depart for Germany via Turkey, it added.
In early April, a court in Kamchatka's Elizovsky District ruled that the German national was guilty of "promoting non-traditional sexual relations and preferences on the internet."
The man, who acknowledged his guilt during the trial, was fined 150,000 rubles (around $1,900) and ordered to leave the country.
According to RIA Novosti, it's the first time a sentence has been passed in the Far Eastern Federal District under Russia's legislation banning LGBTQ propaganda.
Local media reported that the perpetrator was a 40-year-old German language teacher, who arrived in Kamchatka from the state of Baden-Wurttemberg in southwestern Germany. He allegedly sent messages to a 25-year-old male from the city of Petropavlovsk-Kamchatsky, trying to persuade him to engage in a sexual relationship.
In a separate case last month, a court in Russia's Republic of Tatarstan ordered a seven-day arrest and deportation of a Chinese student, who posted videos depicting his same-sex relations with a male from Georgia on social media.
Russia banned LGBTQ propaganda aimed at minors back in 2013, despite harsh criticism of the legislation in the West. Last December, Russian President Vladimir Putin officially signed a law that tightened those restrictions. It introduced hefty fines for the promotion of "non-traditional sexual relations," pedophilia, and transgenderism to both minors and adults through books, cinema, the media and the internet. A foreign citizen who violates the legislation may be subject to deportation, according to the new rules.
You can share this story on social media: