Ukraine restricts use of 'Z' and 'V' on car plates
The symbols are commonly associated with the Russian military operation in the country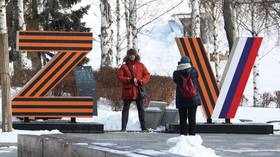 Ukraine has restricted use of the letters 'Z' and 'V' in personalized license plates, the country's Interior Ministry announced on Friday.
The two letters are commonly associated with the "Russian aggression" against Ukraine, the ministry said, explaining the measure. While the letters are not subjected to a blanket ban, they cannot be used from now on as standalone symbols on a plate or as a substitute for similar-sounding Cyrillic letters in words.
The 'Z' and 'V' letters originally appeared as tactical markings used on equipment by various groupings of Russian troops at the start of hostilities between Moscow and Kiev in February 2022. Their use as symbols subsequently went viral, surfacing on assorted merchandise and memorabilia related to the military operation.
However, Ukraine has abstained from targeting another symbol linked to the hostilities – the letter 'O' – which has been commonly used as a Russian tactical marking as well.
The inaction against 'O' presumably stems from the fact that it's effectively impossible to distinguish a Cyrillic letter 'O' from its Latin counterpart, which would further complicate enforcing such a rule.
You can share this story on social media: