West's efforts to isolate Russia have failed – Lavrov
The top diplomat says nations comprising 85% of the world's population are refusing to take part in anti-Russia policies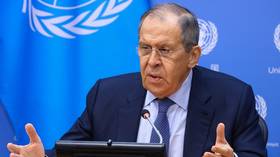 The West has failed to isolate Russia, with the majority of the world still interested in maintaining good relations with Moscow, Foreign Minister Sergey Lavrov has said. He also argued that the trend toward multipolarity is irreversible, whether former colonial powers like it or not.
Addressing the World Online Conference on Multipolarity on Saturday, Lavrov said that "Washington's and its satellites' efforts to reverse history, to force the international community to live by the invented 'rules-based order'" are proving to be a fiasco, citing the "total failure" of the West "to isolate Russia."
According to the foreign minister, a number of countries, which combined are home to 85% of the world's population, have made it clear that they will not do the bidding of the former colonial powers.
The Russian diplomat said the fact that delegates from several dozen nations "from nearly every continent" attended the online forum shows just how much traction the idea of multipolarity has gained.
Lavrov noted that new global centers are emerging in Eurasia, the Indo-Pacific region, the Middle East, Africa, and Latin America, and that these nations are pursuing independent policies guided by national interests.
According to the foreign minister, developing nations have been steadily expanding their share in the global economy over the past three decades, while the role of the G7 nations has been diminishing.
He also hailed the fact that more and more countries have expressed interest in joining international groups "of the new kind," such as BRICS and the Shanghai Cooperation Organization (SCO).
Russia, Lavrov explained, champions a multipolar world order based on respect for the UN charter, and a "balance of interests" as opposed to a "balance of fear."
President Vladimir Putin said on Friday that Moscow will not abide by the "so-called rules" invented and imposed by "certain countries."
Also on Friday, while addressing members of the SCO, Defense Minister Sergey Shoigu claimed that the West is putting "unprecedented pressure" on independent countries to pit them against Russia and China, and undermine the rise of the multipolar world.
On Monday, Lavrov called for the expansion of Asian, African, and Latin American representation in the UN Security Council, arguing that the West is over-represented in the international body.
You can share this story on social media: