Russian social media star admits to $11 million tax fraud
Blogger and motivational speaker Elena Blinovskaya was detained at a border crossing on Thursday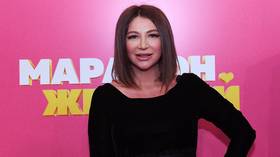 Russian lifestyle coach and popular blogger Elena Blinovskaya has pleaded guilty to charges of failing to pay more than $11 million in taxes and money laundering, Russia's Investigative Committee said on Friday.
Blinovskaya, who has 5.3 million followers on Instagram, was detained at the border with Belarus on Thursday. According to investigators, she was trying to flee the country.
A court will now decide if the blogger will remain behind bars until the trial.
A former beauty pageant winner, Blinovskaya made a fortune by giving motivational speeches and selling self-help classes online. She is now being accused of falsifying business records in order to hide her actual income.
Filipp Pokrovsky, the blogger's attorney, told 5TV that, because his client was caught at a border crossing, it is unlikely that the prosecution would agree to place her under house arrest. He added that the defense will ask the court for leniency.
Blinovskaya's arrest comes after another popular Russian social media star, fitness guru Valeria Chekalina, and her husband were charged with failing to pay more than $4 million in taxes.
You can share this story on social media: