Russian 'life coach' dramatically detained at border over $11 million tax bill
Elena Blinovskaya is suspected of falsifying business records, investigators have said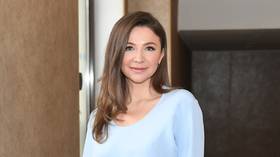 Popular Russian blogger, lifestyle coach, and motivational speaker Elena Blinovskaya was arrested on Thursday on suspicion of tax evasion and money laundering.
She was detained at the border while trying to cross into Belarus by car, investigators said. Police said she had also booked a flight from Moscow to Uzbekistan.
According to the Investigative Committee and the Moscow Prosecutor's Office, Blinovskaya, 41, falsified business records and failed to pay more than 918 million rubles ($11.2 million) in income tax between 2019 and 2021.
Blinovskaya's office and house were searched. News website RIA Novosti cited a law enforcement source as saying that her husband, a businessman, was being interviewed as a witness.
The self-help guru with 5.3 million followers on Instagram last month denied reports that her business ventures were being investigated on the basis of complaints by some of her clients. "Excuse me, but I'm paying (my taxes). So what (illegal) schemes can they speak of?" she told REN TV at the time.
Blinovskaya was born in Kirov Region in western Russia. In 2016, she won the Mrs. Russia International beauty pageant.
She later became famous as a blogger and motivational speaker, hosting public events at which she talked about financial success and gave relationship advice. She also offered online seminars, called 'marathons', on topics such as psychology, astrology, motherhood, and sex. According to a 2021 report in Forbes magazine, around 150,000 people had participated in Blinovskaya's marathons at that point. In 2022, she launched her own show on channel TV3.
On Wednesday, the day before her arrest, Blinovskaya was a guest at the Amoconf business forum in Moscow. She delivered a speech to a live audience inside the VTB Arena stadium.
Blinovskaya's arrest comes a month after fitness blogger Valeria Chekalina was charged with failing to pay more than 311 million rubles ($3.8 million) in taxes.
You can share this story on social media: