Russian social media stars face jail in $4 million tax probe
Beauty blogger Valeria Chekalina and her husband allegedly tried to exploit a simplified tax bracket a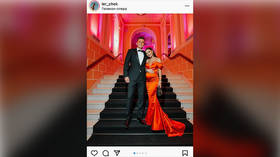 Russian authorities have brought charges against Instagram fitness blogger Valeria Chekalina over an alleged attempt to evade taxes to the tune of several million dollars. Her husband Artyom has been accused of acting as her accomplice.
Should the pair be found guilty, they could face up to three years in jail in addition to a hefty fine.
On Tuesday, the Moscow prosecutor's office stated that Chekalina, also known as ler_chek, had evaded, with the complicity of her husband, paying VAT and personal income taxes between 2020 and 2021 totalling more than 311 million rubles ($4.1 million).
Earlier in the day, Russia's Investigative Committee said that it had launched a relevant criminal investigation into the matter.
According to the Committee, between 2020 and 2022 Chekalina took advantage of a simplified taxation scheme which could be employed only by taxpayers who earn 150 million rubles ($2 million) per year or less.
It stated that Chekalina financially benefited from conducting fitness marathons "in an amount significantly exceeding" this sum. Unwilling to go over to the general taxation system, the blogger "brought her spouse and other persons among their relatives to act as their accomplices," it added.
In doing so, Chekalina "illegally split the business and evaded taxes in the amount of more than 300 million rubles ($4 million)," the statement read, adding that law enforcement agencies have searched the premises of the suspects.
RIA Novosti also reported, citing sources, that the couple had been slapped with certain travel restrictions until the investigation is finished.
Valeria Chekalina has more than ten million subscribers on Instagram and specializes in health and fitness courses as well as marathons, all seeking to help people lose weight. As of 2020, she was listed as one of the top-earning Russian social media stars with an income of $600,000 per year. Her husband Artyom, working in the same line of business, has about four million subscribers on Instagram.
You can share this story on social media: