Zuckerberg unveils new Instagram feature
The social media platform has introduced 'channels' – an innovation adopted back in 2015 by its competitor Telegram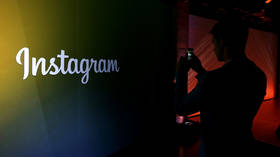 Meta's Instagram has rolled out a new 'channels' feature, which allows creators to share content updates with all of their followers. CEO Mark Zuckerberg published a link to his own channel on Facebook on Thursday.
In his post, Zuckerberg declared he will use his channel to share "news and updates on all the products and tech we're building at Meta." He also revealed that the channels feature will be introduced on "Messenger and Facebook in the coming months."
A similar novelty has for years been one of the trademark features of the messaging app Telegram.
A separate statement published on Meta's website the same day explained that the new "public one-to-many messaging tool" lets creators "directly engage with their followers at scale."
While the creator can publish content, followers of a channel may only react to it and vote in polls.
The tech conglomerate said additional features, including the "ability to bring another creator into the channel to discuss upcoming collabs or crowdsource questions for an 'ask me anything'" will be added in the near future.
Meta said that mixed martial artists Gilbert Burns and Mackenzie Dern, as well as media personality and entrepreneur Josh Richards are among those who had started their own channels on Instagram on the first day the feature was made available.
Instagram's parent company is drumming up interest by adding that the spots are currently "limited" and anyone interested can sign up to be "considered for early access."
Creators also have an option to maintain a channel that is open to paid subscribers only.
If a channel goes against any Meta policies, Instagram users can report both the channel itself or "specific content shared in the channel." The social media giant warned that it has "tools and reviewers to help" seek out and remove such content.
The Telegram messaging app unveiled public channels back in September 2015, with the feature having become increasingly popular ever since. Celebrities, politicians and media outlets alike use Telegram channels to promulgate their messages.
You can share this story on social media: