Drone piloting should be taught in schools – Putin
The UAV and other high-tech sectors will determine Russia's future, the president has said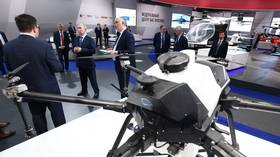 President Vladimir Putin has called unmanned aviation a field of "critical importance" for Russia's economic development and technological sovereignty, adding that young people who are interested in designing and operating drones should be encouraged and given opportunities as part of their early education.
The expansion of Russia's civilian drone industry could open up "fundamentally new possibilities" across a variety of other sectors, but will require a large number of highly qualified and motivated specialists, Putin said at a meeting with top officials and industry experts on Thursday.
It is "necessary to include training courses and modules on the operation of unmanned systems in educational programs" in fields from agriculture and construction to energy and transport.
"I fully support the proposals… for children to be able to learn to control, assemble, and design drones in school," he said, noting that this "interesting and useful" pastime will also serve as an "early career guidance that will ultimately benefit the country."
Earlier on Thursday, the president toured the Rudnevo industrial park in Moscow, commending it as an exemplary drone hub and manufacturing cluster. He later spent over an hour in a separate meeting, discussing key goals and obstacles for the industry.
"The country is interested in your success. And we will try to do anything we can to make this success a reality," Putin told a group of over two dozen representatives of drone manufacturers and operators. He said that with proper government support, Russia's civilian UAV industry could easily exceed the conservative estimates and reach 1 trillion rubles ($12.2 billion).
Russian state and private companies are increasingly using various types of drones to monitor critical infrastructure, facilities, pipeline systems, and power lines, but the industry "has not yet been functioning as a system," First Deputy Prime Minister Andrey Belousov said. The Federal Air Transport Agency, Rosaviation, was tasked with "drastically" revamping its outdated regulations and lifting unnecessary bureaucratic hurdles.
Russia's current drone market is estimated at around 32,000 units annually, excluding micro-UAVs which weigh less than 1 kilogram, according to Belousov. Around 20,000 of them are imported, while the rest are manufactured locally, but mostly with foreign-made components. By 2030, domestic production should cover around 70% of Russia's needs, according to a national UAV development strategy set to be finalized by July 1.
You can share this story on social media: