Kremlin reacts to 'Putin drone assassination' claim
A German tabloid quoted Ukrainian activists who boasted of targeting Moscow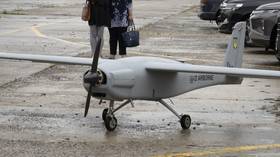 Russian President Vladimir Putin's spokesman has dismissed claims that Ukraine had attempted to assassinate the head of state using a suicide drone. Dmitry Peskov dismissed the allegations as "yellow fabrications."
"No, we are not familiar with these reports," Peskov told reporters. "There are many such 'yellow fabrications' these days. There's no reason to pay them any mind."
On Wednesday, German tabloid Bild published a story titled '17 kilos of explosives intended to kill Putin', claiming that a Ukrainian drone that crashed near Moscow on Sunday had targeted the president, and that the Russian authorities were trying to cover it up.
Bild quoted Ukrainian activist Yuri Romanenko, who claimed that Ukrainian intelligence had sent the drone to target Putin during his visit to the Rudnevo industrial park outside Moscow. The UAV reportedly passed through Russian air defenses undetected and crashed "not far" from the target location. The German outlet described Romanenko as someone with close ties to Kiev's intelligence services.
The crash of the UJ-22 on Sunday was widely reported in Russian media, however. The UAV was found in the Bogorodsky district, about 30km from Moscow's eastern outskirts and 20km from Rudnevo. It had 30 blocks of C4 explosive, around 17 kilograms, on board. Three more drones, all of the smaller quadcopter variety, were discovered near the Russian capital on Monday.
The same day, Ukrainian propaganda service Euromaidan PR tweeted a video purporting to show footage of Moscow taken by Ukrainian drones, claiming responsibility for the quadcopters and leaving a threatening message: "We are closer than you think."
The platform's Community Notes quickly fact-checked the claim, however, revealing that the drone footage actually came from an old YouTube video.
Putin's planned visit to Rudnevo at some point this week was mentioned by Russian media on Sunday. The president arrived at the industrial park on Thursday, spending over an hour in a meeting with officials and representatives of Russia's aerospace industry. Putin called drone aviation a field of "critical importance" for economic sovereignty, in which Russia should strive to not merely keep pace with the competition, but be "a step ahead." He also discussed the importance of mass producing UAVs.
You can share this story on social media: